Taidankin tehdä tästä Arkipäivämuussia-osiosta pysyvän osan tätä blogia niin saatte nähdä vähän mitä duunailen kaiket päivät ja joskus yötkin.
I think I'll make this "Everyday Mash-Up" a regular thing of this blog so that you can see what I'm up to days and nights.
I was a bit sad yesterday so did all the things that usually brighten my moods. So after the seminar at the university I went to the biggest bookstore in Helsinki; Akateeminen. 'Cos when Spica is sad, she buys books~
Then I remembered that I had a camera in my phone (wow, how smart I am) and that I could take pics of all the books that interested me. Just to remember what I could read next (NOT all of them are included, but a sample of a few that caught my eye.).
First we have this one. When there's a cat on the cover of the book, it automatically shouts "Pick me up!" to me. Unfortunately this was the second book in the series and there were first volumes in sight so I snapped a pic so I could remember it and try to find it later. (Don't you have it happening often that you find an interesting-looking book, which is volume two, search for vol.1 with no luck, and then decide to look for it later, only to forget the damn thing completely?! )
This book seemed like some sort of Harry Potter-inspired fantasy-thing, but still pretty captivating, with tampering with poison and all... Gotta look into it later...
Olin vähän väsy ja suru eilen, joten tein kaikenlaista, mikä yleensä piristää fiiliksiäni. Joten yliopistolla-olon jälkeen menin Akateemiseen. Koska kun Spica on suru,se ostaa kirjoja~
Sitten muistin että minullahan on kamera kännyssä (wow, oonpa viisas!) ja että voisin ottaa kuvia kaikista kirjoista jotka kiinnostivat minua. Jotta vaan muistaisin mitä voisin lukea seuraavaksi (en kyllä laita tähän kaikkia niitä jotka vaikuttivat kiintoisilta :P).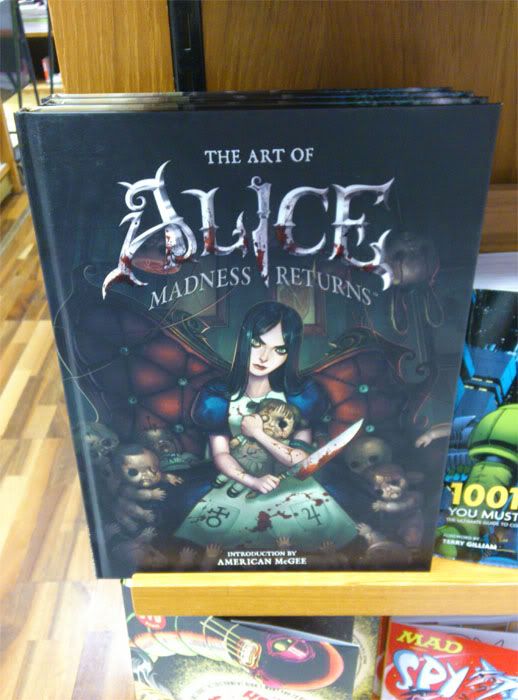 Then, we have an artbook of Alice Madness Returns -game. I love that game (although haven't had time to play it much...) I loved the first game (American McGee's Alice back in the year 2000.. ah memories~) and I love the dark-themed art. Next time, I'll buy this book when I have the energy to carry it. It was quite heavy, being hardback and all.
BTW, I adore books with hardcover. They have that special booky-feeling. Why do they sell mostly pocketbooks nowadays?! It's not right!
Ja sitten; taidekirja Alice Madness Returns -pelistä, rakastan sitä peliä (vaikka ei olekaan ollut aikaa pelata sitä kovin paljon). Rakastin myös sitä alkuperäistä American McGee's alice-peliä vuonna 2000, ah mitä muistoja~
Pidän tuosta tummanpuhuvasta taiteesta. Ensikerralla ostan tämän kirjan, kun jaksan kantaa sen... oli nimittäin aika painava kun oli kerran kovat kannet ja kaikki.
Rakastan kovakantisia kirjoja muutes, miksi nykyään niin harvat kirjat ovat kovakantisia!? Kovakantisissa on sitä kirjamaista fiilistä enemmän kuin pokkareissa.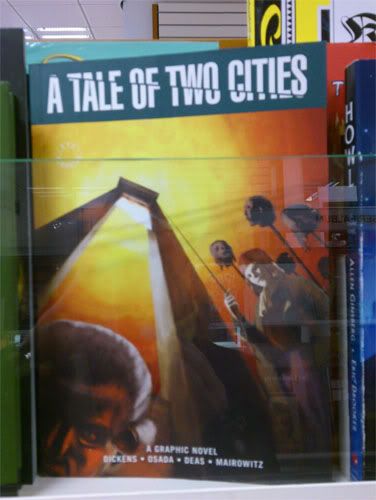 En ole aikeissa ostaa tätä sarjakuva-adaptaatiota Tale of Two Cities-romaanista, mutta oli pakko kuva, jotta voisin tuoda julki hämmennykseni siitä, miksi A Tale of Two Cities-kirja tuntuu "kummittelevan" minulle! O___o Se popsahtelee silmiini aina mitä hämmästyttävimmissä paikoissa, kun vähiten osaan odottaa.
Itseasiassa omistan tämän kirjan jo, (kovakantisena!!) vanhana painoksena, koska sain kerran kaupanpäällisiksi valita joitain vanhoja kirjoja eräästä antiikkikaupasta, kun olin ostanut jotain. Siellä oli englanninkielinen A Tale of Two Cities, joten se oli vähän pakko ottaa, vaikka vähän jänskättikin, kun tuntuu että universumi yrittää saada minua lukemaan tuon kirjan... oli mikä oli! Huu!!
I'm NOT about to buy this graphic novel-adaptation of A Tale of Two Cities, but when it loomed to my view at the comics section of the bookstore, I just had to take a picture of it, so that I could let you know about my confusion because this book seems to "haunt" me! O___o
It turns up all the time, in various random situations, when I least expect it, but always manages to make itself known to me, for some reason...
As a matter of fact, I already own this book; it's an old, hardback-version of the novel. I got it from a shop that sells antiquities, I got to choose a book as a free bonus gift when I bought something else. And - what do you know - there it was. A Tale of Two Cities, laying in wait for me at the dusty antiquities shop bookshelf. I couldn't leave it there, because I have a feeling the universe is trying to get me ro read this book... come hell or high water...! ;3 Wooh, scary!!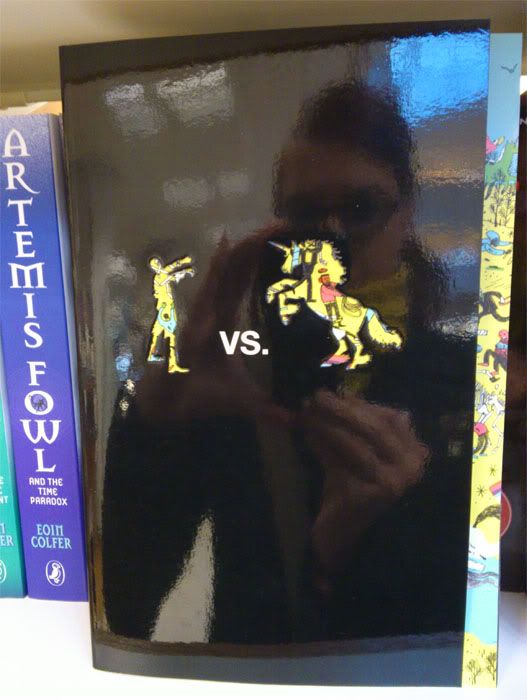 Aaaand! We have a winner!! This was THE BOOK I just HAD to take with me... hands down! This was MEANT for me, Zombies vs. Unicorns... ;-D Oooh, it's just so funny... It contains short-stories of both zombies AND unicorns, what more could you ask for?
Also, you can see me snapping a shot of its cover...
Jaaaaa meillä on voittaja! TÄMÄ kirja oli aivan pakko-ostos... ehdottomasti! Tämä oli taatusti TARKOITETTU minulle, katso nyt, Zombiet vastaan yksisarviset, voiko enempää pyytää! Ooh, se on niin hassua, siinä on lyhäreitä, sekä zombeista ETTÄ yksisarvisista.
...voit myös nähdä pärstäni heijastumasta kirjan kannesta kun nappaan kuvaa. jeejee.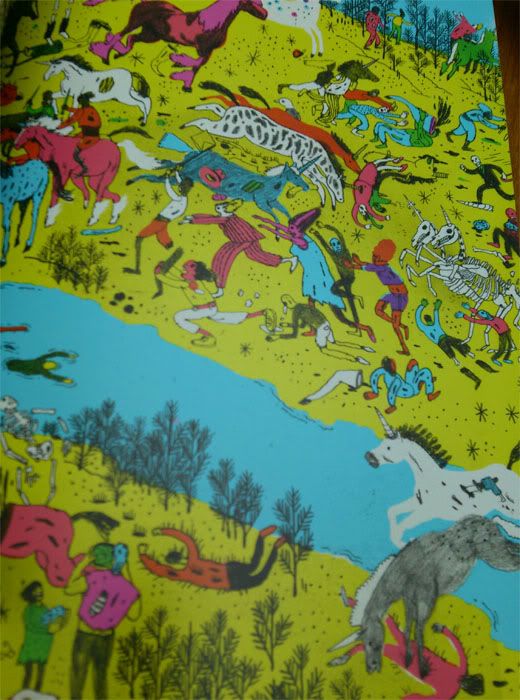 Kuva sisäsivulta. :3 Mahtavaa. Yksinkertaisesti mahtavaa.
A pic from the front page of the book. Simply awesome~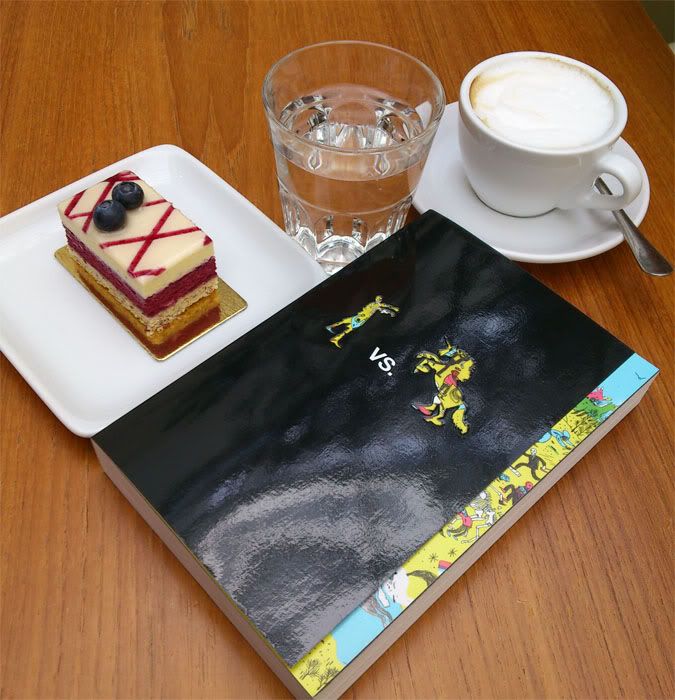 Nothing says coffeetime like zombies and unicorns.
Ja eikun kahville, koska eihän zombeja ja yksisarvisia voi ottaa vastaan ilman kofeiinitujausta.
Matkalla kahvilaan nappasin itsestäni jälleen kuvan peilin kautta. whee~ *myyjät tuijottivat* Paaaljon tyynyjä taustalla~
On the way to the café I took a pic of myself through this mirror in the ceiling. *got strange stares from the store-staff*
Loads of pillows in the background~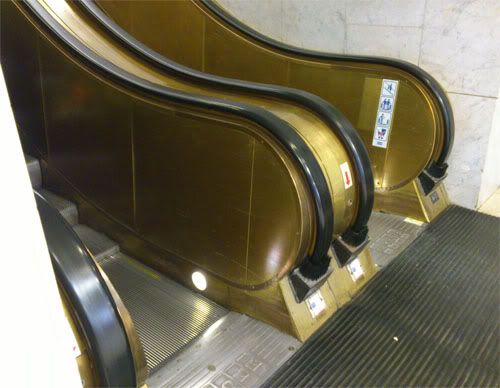 Took pictures of these escalators in the bookstore, because I though they had something I could use for inspiration in my steampunk-vibes. Has anyone done steam-operated escalators yet? I'd love to see some!
Otin kuvat näistä rullaportaista kirjakaupassa, koska minusta ne inspiroivat jotenkin steampunk-häröilyssäni. Onkos kukaan vielä tehnyt missään höyrytoimivia rullaportaita? Olisi hauska nähdä sellaiset!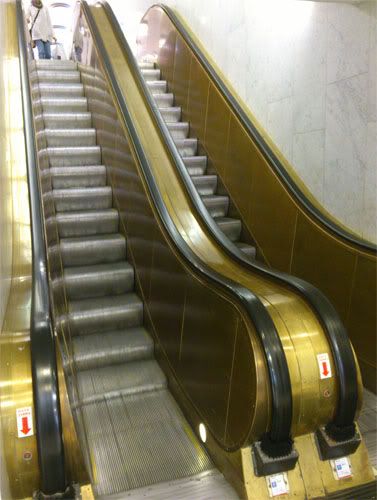 ---
And here's another thing that Spica does when feeling a bit down; a visit to the toy store~ <3 What a funny fox! Foxes are my soul-animals. :3
Ja tässä vielä yksi juttu kirjojen lisäksi mitä Spica tekee kun on hiukan maassa; menee leluosastolle! <3 Iiihana kettu-retku. Ketut on sieluneläimiäni. :3 Myös Retku-Ketut.
Sitten tässä mangaa, jota ajattelin lukea seuraavaksi, Countdown 7 Days vol. 2 ja Bunny Drop vol. 5. Taustalle oli pakko laittaa Soejima Shigenorin taidekirja, jonka löysin äskettäin. Rakastan (rakastan monia monia asioita) Soejima-sensein hahmodesigneja ja taidetta Shin Megami Tensei Persona3 ja Persona 4 -peleissä.
Wikipedia-artikkeli Persona3-pelistä.
En tiedä millaiseksi tuo Countdown 7 Days -manga muotoutuu mutta pidän myös sen taiteesta, sekä ensimmäinen vola oli hyvä. Ehkä hiukan liikaa lainaa juttuja Bleach-mangalta. Mutta tykkään siitä Setä-hahmosta joka tässä mangassa esiintyy (vaikka ei kovin keski-ikäiseltä näytäkään, mutta vaikuttaa henkisesti sedältä, Lol)
Lyhykäinen esittely Countdown 7 Days -mangasta Baka-Updates sivustolla.
Bunny Drop on kestosuosikkini, kertoo keski-ikäisestä miehestä, joka ottaa puoli-orvoksi jääneen sukulaistyttönsä hoteisiinsa. Vähän harmittaa, että tässä osassa sukulaistyttö Rin näyttää kasvaneen jo teini-ikäiseksi, oli niin hellyyttävää seurata japanilaisen yksinhuoltajamiehen ja pikkutytön elämää. (todella yllättävää että Spica tykkää tämänlaisesta mangasta, mutta mangassa on juuri se hyvä puoli, että sitä voi innostua jostain ihan yllättävästäkin jutusta...)
Wikipedia-artikkeli Bunny Dropista.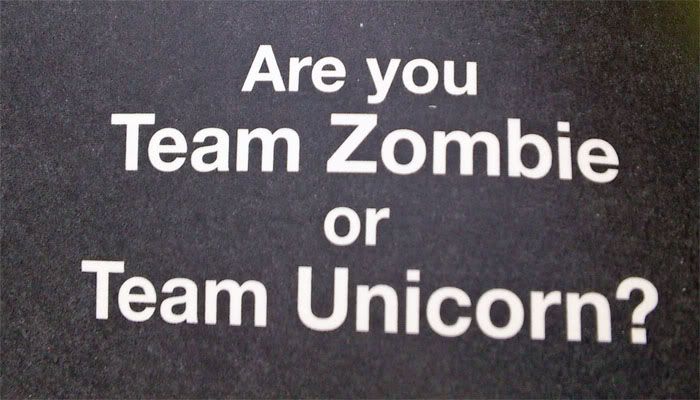 Well, are You in the winning team or not? Choose your side, but choose wisely, my friend. ;)
No, oletko SINÄ voittajien puolella? Valitse puolesi, mutta tee se viisaasti, ystäväni. ;)