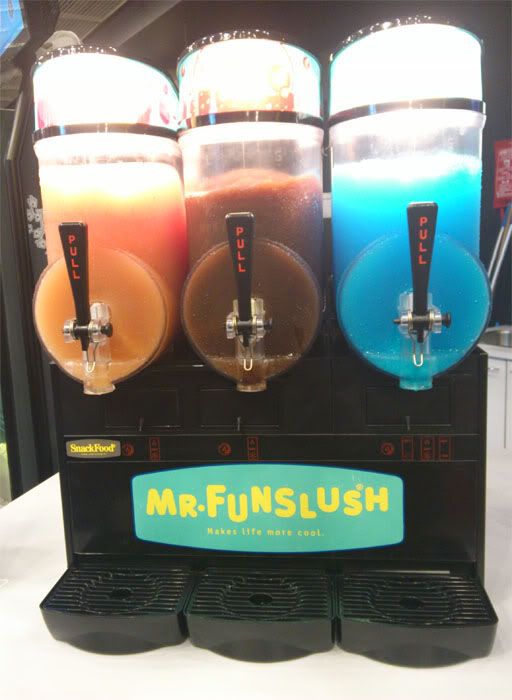 Spica, reporting again with a compilation of weird stuff... but that's like my life in one sentence. ;) Went to see a movie with my friend but ended up doing miscellanious other things instead... I find this slushmachine pretty interesting, visually that is. It also has something steampunky in it, doesn't it? ^3^ (What, can I hear a faint chorus of voices shouting
"n....not at
aaaalllllll"
somewhere in the distance, Lol!
Spica reporttaa taas kasasta outoja juttuja. Mentiin katsomaan leffaa kaverin kanssa, mitä ei sitten tehtykään ja sitten keskityin Oheistoimintaan.
Minusta tämä jäähilejuoma-masiina on visuaalisesti varsin mielenkiintoinen. Siinä on jotain steampunk-maista, huh? (Mitäs, saatanko kuulla pienten äänten huutavan jostain kaukaisuudesta;
"no.....ei sitten yyyyyhtääääääään...!"
Hahahahhah. *nyt kuuluu nauraa*
Mitä tää on? What is this?
Siis-...
MITÄ tää on???
No tota yllä olevaahan se. Näyttää erittäin syötävältä.
So like...
WHAT is this???
Well it's the same stuff they roll around in that machine. Looks edible, hmmmm?
Jaaaaa- meillä on aiheesta myös havainnollistavaa opetusmateriaalia, esim. video, jepujepujeee! Täältä taustalta kuuluu siskoni ja kaverini rattoisaa rupattelua siitä, mitä mennään katsomaan. Itse olen ihan tuon koneen ja mössön lumoissa. Videon loppua kohden siskoni hermostuu minuun, hahaha!
Aaaaand- we also have educational videomaterial, like, a video, wooot woot!
In the background you can hear my sister and my friend trying to decide what movie we are going to see (War of the Dead, Iron Sky or some other flick.) while I'm much too enthralled about the slushmachine and the gooey stuff inside it to pay attention. Towards the end of the video my sister gets mad at me... Hahaha...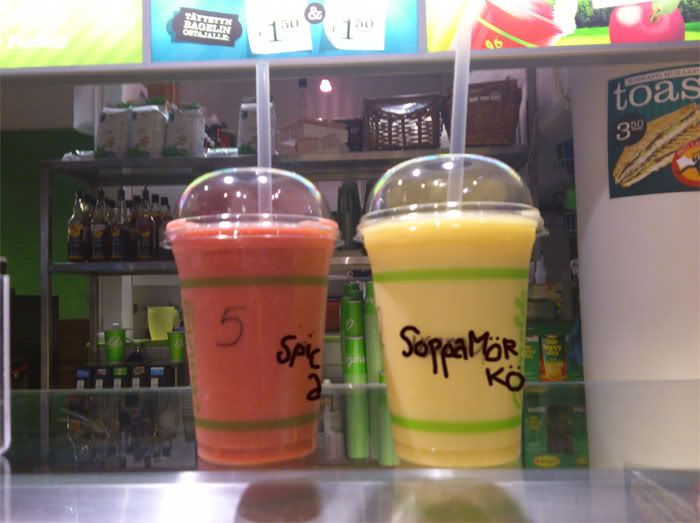 Although it looks totally delicious, we didn't go for Mr. Funslush after all... but oddsmoothies! As I named them. You can get your name written on the mugs~ <3 I cencored my sister's name using my never-unsurprising skillz of creativity~ (It reads "soppamörkö"... which is something like "soupymonster" in english... don't know why I did that but it seemed hilarious at the time...)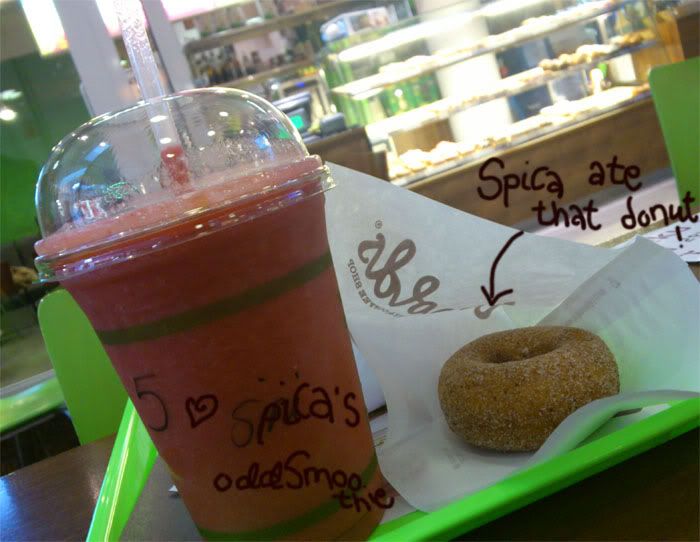 This is what I had, yum yum. PErfectly innocent-looking smoothie..
Tota söin, nami nam. Aika viattoman oloista smoothieta...
...but this is what it's TRUE FORM looks like! Don't be fooled by the oddsmoothies~ They are related to bogmonsters, I tell ya!
It looks nice enough when viewed from the side... but this view tells a different story! (yeah it tasted nice, just thought it would be funny to show the "yucky" side too)
...mutta tältä sen OIKEA OLOMUOTO näyttää! Älä tule kummasmoothien fuulaamaksi~Ne on sukua suohirviöille, usko pois!
Näyttää sivulta ihan OKltä tuo juoma, mutta ajattelin että voisi olla hauskaa näyttää myös ällöpuoli. Koska Spica löytää kaikesta ällön puolen.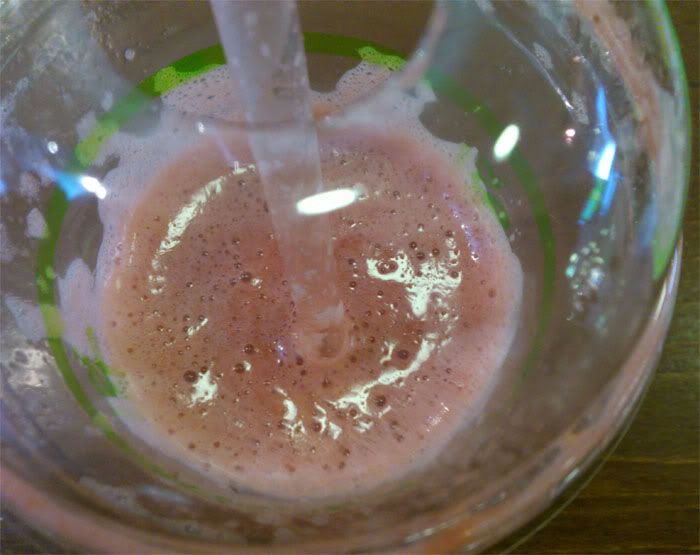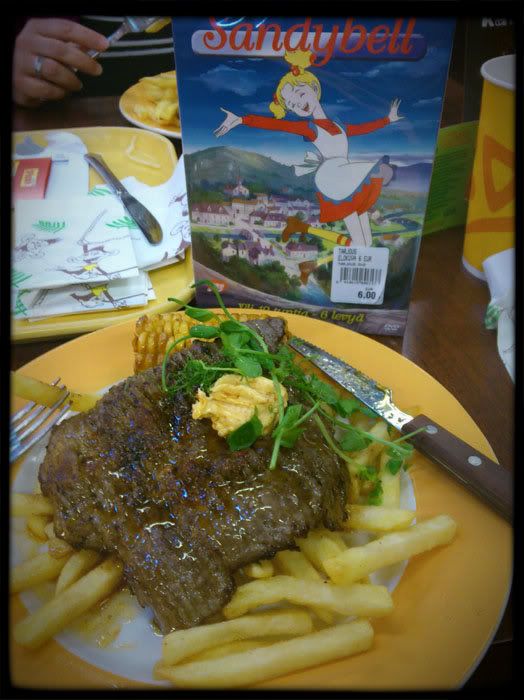 I love steaks and I love french fries~ And I love kiddy-oriented anime. This Sandybell-box set was only 6 euros~ Woot! How could I resist?
Rakastan pihvejä ja ranskalaisia~ sekä lapsille suunnattuja animeita (läppämielessä ja muutenkin). Sandybell- boksisetti oli vain 6 euroa~ Yaaay! Kuinka olisin voinut vastustaa?
Oudoista syömingeistä puheenollen, tällainen karkkikauppa on leffateatterin lähellä. Kutsun sitä Hullun Pellen Karkkikaupaksi kert' toi dopin näköinen pelle tossa. XD
Ostaisitko tältä mieheltä karkkia?
Pellet on friikin näköisiä, mutta että näin friikkejä? Nauran tuota kuvaa aina kun kuljen ohi ja nyt se piti tallentaa oikein jälkipolville. Hyviä karkkeja tuolla on kuvasta huolimatta, suosittelen. ;)
Tämä postaus on Ase-lehden maskotin, seinätontun hyväksymä!
Wallgnome approves of this post and flails his painted gun at you. (he might look pretty out of it butbut he IS kind so not to worry)