I decided to make a separate post for the shopping I did and souvenirs I bought from Sweden. I already have a white dalahorse that I've had since I was a kid, but I bought two smaller ones that were more in scale for G4 My Little Ponies... I don't know why. I just thought that a traditional dalahorse and a commercial, modern Pony look interesting side-by-side.
Pinkie Pie was especially amused that I found a pink dalahorse.
---
Päätin sitten tehdä erillisen postauksen Ruotsista ostamistani matkamuistoista. Minulla oli jo alunperin valkoinen taalainmaanhevonen jonka olen saanut pienenä mutta ostin nyt kaksi pienempää jotka olivat enemmän G4 My Little Ponyjen kokoluokkaa...
En tiedä miksi. Minusta vain perinteikkäät puuhevoset ja modernit kaupalliset Ponyt näyttävät jänniltä vierekkäin.
Pinkie Piestä oli erityisen hauskaa että löysin vaaleanpunaisen taalainmaanhevosen.
I collect wooden animals... among various other things. :-) This wolf was for sale at the Finnish center in Sweden. The wolf-print was found at a Finnish shop for old books.
---
Kerään puisia eläimiä... kaiken muun lisäksi. :-) Tämä susi oli suomi-keskuksessa myynnissä. Susi-printti löytyi suomalaisesta vanhojen kirjojen kaupasta. Eli antikvariaatista.
One of the more "adult-like" things I bought (pretty unusual for me, who always buys toys and other "useless" stuff..). A Table-topper with a reproduction of Karin Larsson's stitching pattern. Karin Larsson was Carl Larsson's wife and an artist herself. Her textile-art had beautiful abstract, and very modern motifs.
---
Yksi "aikuismaisemmista" jutuista jonka ostin (aika harvinaista minulle, joka yleensä ostelen vaan leluja ja muuta "tarpeetonta"...). Pöytäliina jossa kuvio Karin Larssonin kirjontamalllin mukaan. Karin Larsson oli Carl Larssonin vaimo ja taiteilija itsekin. Karinin tekstiilitaiteelle tyypillistä olivat modernit, abstraktit ja kauniit kuviot.
Build-it-yourself set of miniature furniture-models. Three chairs and a half-moon table, miniatures from the furniture that the Larsson-family had in the 1800's.
We'll see if I'll ever muster the patience to build these things, but if I do they will be roughly the size that would go well with Figma-figures.
These are made by Kotte Toys (
http://www.kottetoys.se/
) and you can see the furniture as they should look like when fully assembled in this pic I found on their homepage. They have an interesting range of other miniature furniture too!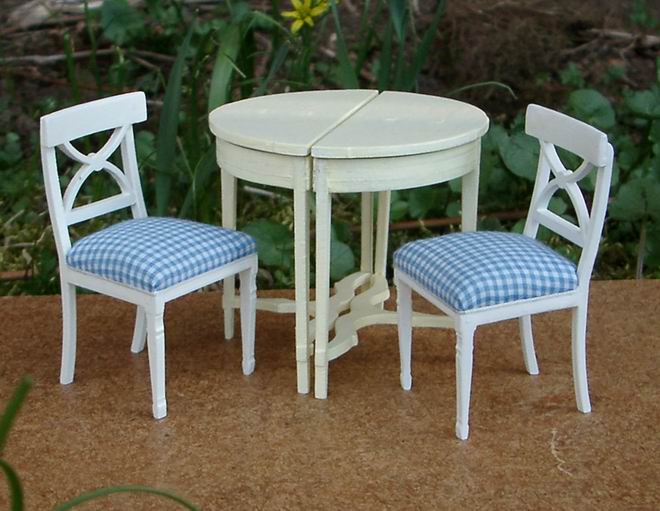 All rights belong to Kotte Toys.
---
Rakenna-se-itse pienoismalli-huonekaluja. Kolme tuolia ja yksi puolikuu-pöytä, miniatyyrejä perhe Larssonin huonekaluista.
Saapa nähdä onko minulla tarpeeksi kärsivällisyyttä että joskus kokoankin näitä, mutta jos niin käy niin ovat sitä kokoluokkaa että menisivät melko hyvin Figma-figuureille.
Näitä valmistaa Kotte Toys (
http://www.kottetoys.se/
) ja sieltä myös tuo kuva, jossa näette mitlä tuolit ja pöytä näyttävät - tai miltä niiden pitäisi näyttää koottuna.
Kotte toysilla on paljon muitakin mielenkiintoisia pienoishuonekaluja myytävänä!
Oh I forgot to tell you that we visited Mårbacka, the home of Selma Lagerlöf, a famous Swedish author and Nobel-prize winner whose most beloved book is
The Wonderful Adventures of Nils
. You probably remember this book better from the anime, if you were a child in the 80's or 90's and lived in Europe... ;-) I'm not sure if the series has ever aired in the USA.
I bought a comic book starring Selma herself as the protagonist. The book is aimed for children but it was a fun read and I liked it. Although most of the so-called "pseudo-manga", or comics produced outside of Japan but bearing resemblance to the japanese comics in drawing style, are usually pretty awful, I think this one made good use of its oriental inspiration.
The other book is
Kristuslegender
, a collection of short stories in which Lagerlöf discusses some of the legends of Christ.
---
Ai niin, unohdin kertoa että kävimme myös Mårbackassa, Selma Lagerlöfin kotitalossa. Selma oli kuuluisa ruotsalainen kirjailija ja Nobel-palkinnonsaaja jonka kaikkein rakastetuin kirja on varmaankin
Peukaloisen retket
.
Jos et muista kirjaa niin animaatio on varmaankin tuttu? Päivän kysymys kuuluu, onko animaatiossa nähty hamsteri myös kirjassa vai onko se japanilaisten "Tähän animaatioon tarvitaan lisää kawaii-faktoria! Lisätäänpä söpö eläin!"-aikaansaannosta? Itse on ole lukenut kirjaa joten tämä kysymys pyöri mielessäni koko matkan ajan.
Ostin sarjakuvan, jossa Selma itse lapsena seikkaili päähenkilönä. Sarjis on suunnattu lapsille, mutta sitä oli hauska lukea ja pidin siitä. Vaikka suurin osa niin kutsutusta "pseudo-mangasta" eli Japanin ulkopuolella piirretyistä, mutta mangasta piirrostyylinsä lainanneista sarjakuvista onkin melko kehnoja, tämä onnistui käyttämään aasialaista inspiraationlähdettään hyvin.
Toinen kirja on
Kristuslegender
, joka koostuu novelleista joissa Selma tulkitsee kaunokirjallisesti muutamia Kristuslegendoja. Teologina tulee kerättyä paljon kaikenlaisia kirjoja.
...what did I tell you about me and my habit of buying "useless stuff like toys"...
When the Littlest Pet Shop animals were introduced in to 90's, I was a kid and loved them. I never really liked the new LPS animals of 2000s with their huge bobble-heads and enormous gaping eyes.
But now that the "normal looking" 2000's LPS animals are starting to disappear from the stores and getting replaced by the horrible "talent-show-super-star-what-not" LPS glittery-glam animals, these little fellows have become appealing to me.
This puzzle-exclusive-Husky-LPS was for sale at Mariefred's Bookshop so I couldn't resist.
I usually don't have the patience for puzzles, but this one has less pieces so I think I'll be OK with it.
---
...mitäs minä sanoin siitä että minulla on tapana ostaa "tarpeetonta tavaraa kuten leluja"...
Silloin kun Littlest Pet Shop eläimet tulivat markkinoille 90-luvulla olin kersa ja rakastin niitä. En koskaan oikein lämmennyt näille 2000-luvun LPS elukoille nuokkuvine bobble-päineen ja jättimäisine silmineen.
Mutta nyt kun "normaalinnäköiset" 2000-luvun LPS eläimet ovat alkaneet hävitä kauppojen hyllyiltä ja hirvittävät "talent-show-super-star-mitä-ikinä" LPS kimallepimalle elukat ovat korvaanneet ne, tuli muutos. Nyt nämä luonnollisemman näköiset isopää LPS-eläimet ovat muuttuneet yllättäin söpöiksi minusta. Olen yrittänyt olla alkamatta kerätä myös LPS-elukoita mutta onhan niitä muutama kerääntynyt...
Tämä ilmeisesti palapeli-eksklusiivinen husky-LPS oli alennuksessa Mariefredin kirjakaupassa enkä voinut vastustaa sitä. Minulla ei yleensä ole kärsivällisyyttä koota palapelejä mutta enköhän pärjää tämän kanssa kun se on lapsille ja siinä on vähemmän paloja...
A new addition to my German Shepherd-collection!
---
Uusi lisä saksanpaimenkoira-krääsäkokoelmaan!
...and a Sanrio My Melody Pez-container because I was feeling nostalgic. And if you ever go on a cruise-ship faring between Finland and Sweden, know that you just have to buy candy!
I was going for an absurd atmosphere with this pic, tell me if I nailed it or not! ;-D
I'll end this post with these pics from the Finnish-center in Sweden because I forgot to add them in the last post.
----
...ja sitten vielä Sanrio My Melody Pez-annostelija koska minulla oli nostalginen olo. Laivalta on pakko ostaa aina karkkia!
Tavoittelin absurdia tunnelmaa tällä kuvalla, kertokaa onnistuiko vai ei! ;-D
Lisään tähän lopuksi vielä Suomi-keskuksessa ottamani kuvat kun en muistanut niitä viime postaukseen laittaa~
There was a Pinkie-Pie -sized Finnish-style log-cabin there! Yay!!
Best_Pony_Playhouse_EVER!
---
Siellä oli Pinkie-Pien kokoinen suomalaistyylinen torppa vai mikä savumökki olikaan! Yay!!
Paras_Poni_Leikkitalo_IKINÄ!!!
Pinkie: "...anybody home?"
---
Pinkie: "..onko ketään kotona?"
Pinkie: "There you are! Hi! Are you in for a party?"
Granny: "What?... Can't you see we are having a party already? This is more action than this cabin has seen since 1856. Here, have some pettu-bark-porridge." (For more information on pettu see
http://en.wikipedia.org/wiki/Bark_bread
)
Pinkie: "aw... no milkshakes? ;__;"
---
Pinkie: "Siellähän sinä olet! Hei vain! Haluaisitko sinä juhlia?"
Mummeli: "Mitä? ...etkö näe että täällä on jo juhlat meneillään? Näin railakasta menoa ei tämä tupa ole nähnyt sitten vuoden 1856. Tässä otapas vähän pettu-puuroa."
Pinkie: "....eikö löydy pirtelöä? ;__;"
That's a crocheted wolf from the Finland-center for you!
Siinä teille virkattu susi suomikeskuksesta!