"DEAR SANTA,
I've behaved exceptionally good this year, as always,
almost like an angel...."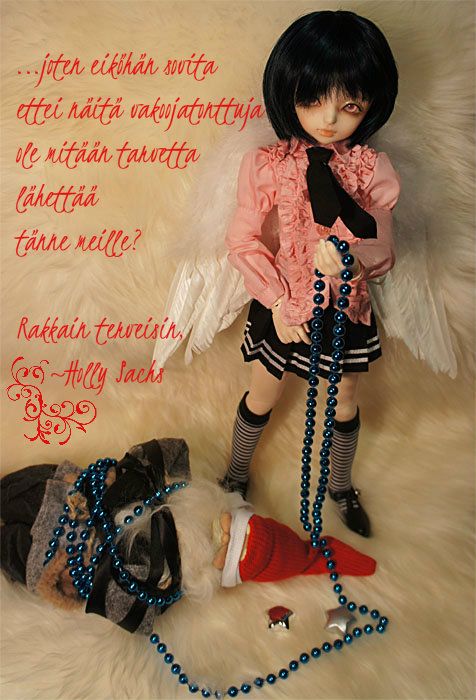 "...so

w

on't you agree that it's completely un-necessary to send these spy-elves
to creep around our house anymore?
With best regards,
~Holly Sachs "
So this was my contribution to the Advent Calendar event on a finnish ball-jointed doll forum. :3
I like to think that this last pic is the Christmas card that the Sachs-Beaumont household sends their friends and acquaintances. so Best Wishes from the Sachs-Beaumont family and Spica to you too, my dear blog-visitors and followers~ :3 Thank you for being here, I'm very happy that you take the time to visit my blog! Have an excellent Christmas-time and enjoy lots and lots of delicious food ! <3
**Note: No spy-elves were harmed during this photo-shoot.**
----
Tämä on minun panokseni Hartsilapset-foorumin adventtikalenteriin. :3
Tykkään ajatuksesta, että tämä viimeinen kuva on Sachs-Beaumontin perheen joulukortti, jonka lähettävät ystävilleen ja tuttavilleen. Joten Parhaat Jouluntoivotukset Sachs-Beaumonteilta ja myös minulta, Spicalta teille kaikille blogissa vierailijoille ja seuraajille~ :3 Kiitos kun olette siinä, olen todella iloinen, että käytätte aikaa blogissani vierailemiseen ja kuvien katseluun/kommentoimiseenkin!
Toivon teille mainiota joulunaikaa ja syökää napa täyteen herkullisia jouluruokia! <3
**Huomio: Yhtään vakooja-tonttua ei vahingoitettu tätä kuvatessa.**